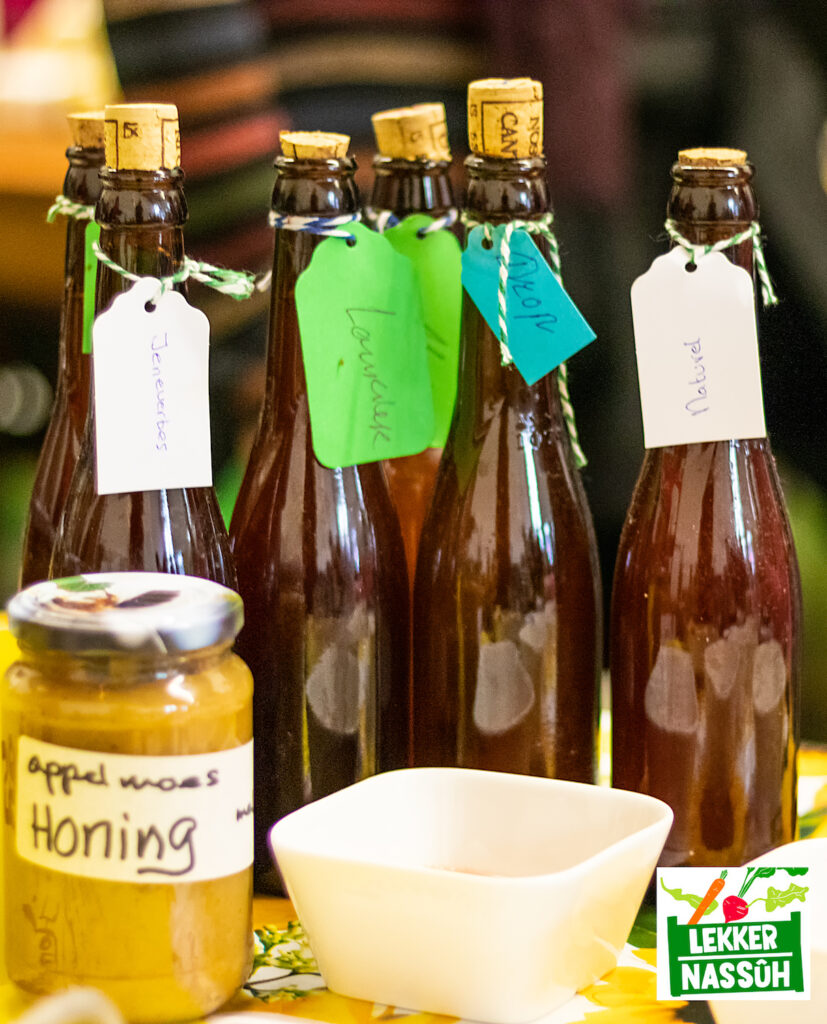 Are you interested in becoming a new vendor?
Lekkernassûh is interested in providing vendors a place to start selling on a small-scale their locally made, mostly organic and sustainably produced food products. If you would like to know more about becoming a new third-party vendor at Lekkernassûh, read through the guidelines for vendors below and submit a copy of the online application, or contact us at derdenverkoop@lekkernassuh.org, so we can answer your questions and help you complete the form as needed. There are opportunities to sell products at one or more of the Lekkernassuh markets and/or package-free shop. 
What can you expect from Lekkernassûh?
We offer to sell your product(s) in our market(s) which includes access to a community of people who are interested in biological, sustainable products. Our market coordinators help with set-up when goods are delivered, all sales are made in euros through our cash register system, there are opportunities for some limited publicity, and our team can generate sales reports for your products. There are also occasional opportunities to be present to help sell and promote your products.
Lekkernassûh keeps 15% of your sale price, which allows us to provide the above plus secondary costs like rent, cashier system and bookkeeping, plus compensating our volunteers with Timebank hours. Any additional profit goes into a transition fund that supports initiatives for sustainable local food systems.
Guidelines for current and new third-party vendors
Items available for sale by third-party vendors are locally made and sourced, food products with mostly organic ingredients, and make a good addition to the current offerings.
New vendors need to have everything organized with Lekkernassûh one week before your first market as a vendor.
If a current vendor would like to add a new or recurring product, we need to have the information about this product at least one week in advance.
Products should arrive at the market half an hour before the official opening time.
Products must be labeled with the name of the product, the ingredient list (including origin of ingredients and whether they are organic or sustainably sourced), and the sale price. These labels can be on each individual item, or on a single display that stands next to the items for sale.
The sale price for the products is established by the third-party vendors.
The posted sale price for third-party products should incorporate both value added tax (VAT) and a 15% fee to Lekkernassûh.
At drop-off, the seller must fill-out a Third-party vendor form or submit a pakbon, which includes the exact quantity of each product delivered. This is left with the cashier.
At the closing time of the market, products not sold must be picked up by the vendor. When unsold products are not picked up, they will remain at the disposal of Lekkernassûh, unless there is an agreement about how Lekkernassûh can handle your unsold products. If Lekkernassûuh agrees with a vendor to store a product, it is the risk of the vendor if anything affects the product during storage.
When unsold products are picked up, the Third-party vendor form or pakbon is completed by noting the amount of each product not sold during that day's market. Take a photo of this form and email it to derdenverkoop@lekkernassuh.org, and also leave the form with the cashier.
The third-party vendor may only invoice for products sold. The invoice should contain the vendor's VAT number (if applicable) and specify market location, quantity and unit price of products sold, the Lekkernassûh fee and applicable VAT. The third-party vendor may request a weekly or monthly report of products sold. Invoices should be sent to derdenverkoop@lekkernassuh.org.
In case of dispute on the quantity of products sold, the cash register system of Lekkernassûh (Romanesco) will be decisive.
©️ Photo by finefocus.nl