Message by the Lokaal Voedsel Den Haag Foundation (29 March 2022), copied from https://www.degymzaal.org/nieuws/

It has taken us smore than ix years of applying for permits, meetings with officials, appeal procedures and more, but today (29 March 2022) the Stichting Lokaal Voedsel Den Haag could finally sign at the Notary's office. The Gymzaal now belongs to our community. Many thanks to everybody who has played her/his part in this process, including those who made donations or loans.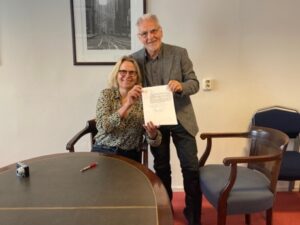 We are now entering an exciting new phase. Together with everybody who uses the Gymzaal regularly, we will review and, where necessary, adjust the original renovation plans. Then we will have to make the final designs and budgets, plan the (phases of) the renovation, raise more funds and contract builders. Our principles for the renovation are still the same: we want to make the Gymzaal as energy-efficient and environment-friendly as possible and we want to renovate with the community. There is a lot to do and at this point in time we have three things to ask of you:
1. New board members: now that this important phase has been concluded, Frans, the chairman will finish his tenure in late April. Recently Tim has started as treasurer and Rebekka as secretary. We are looking for at least two new board members: one who knows a lot about building/renovating and one who is very strong on communication. If you want to know more, please send an email to info@lokaalvoedseldenhaag.nl.
2. New tenants: as the formal owner of the building we have much higher costs (including insurance and taxes), so in order to balance our budget we will need additional tenants (both regular and one-offs). If you are interested or you know of organisations who may be, please mail verhuur@degymzaal.org.
3. Timebank donations: keeping the place going requires quite a lot of work, part of which will be done by volunteers. We would like to show our appreciation by giving the Timebank hours. You can help by donating Timebank hours to our account called 'Lokaal'.

Thanks and see you soon in De Gymzaal!
Frans van der Steen
Rebekka van Roemburg
Tim Hummel